Covid 19
Before eating or drinking with us, you must book a table, this can be done in advance or upon arrival if we have space, contact details will be taken and held as per government instructions. Please wait to be allocated a table, keeping socially distant from other customers. Please be patient, keeping us all safe means everything takes a little longer.
You cannot just rock up and sit where you like, move or swap tables or sit together in large groups. Nor can you stand up drinking your pint, one day perhaps things will return to normal!
Eat Out to Help Out

We are offering the Government Eat out to help Out Scheme which runs on a Monday, Tuesday and Wednesday. You will automatically get a 50% reduction capped at £10 person, this will be applied to meal bills only but does include soft drinks purchased with a meal. This is making these days especially busy, booking is essential to secure a table.
We are taking table bookings for meals but if you have only just arrived in the area, call in and see what is available.
Our menu will be reduced at first, until we can gauge demand, but specials will be available too.
3 nights Bed and Breakfast is £285 for a double room when booked direct
If you would like to book rooms please book direct not via booking agencies, we will not take a deposit at this time and will be flexible with date changes if required.
We are working hard to make sure we can stay open safely for you and our staff.
We have a Takeaway menu if you are coming to stay in a cottage nearby and are not quite ready to face eating out, this menu will be subject to change.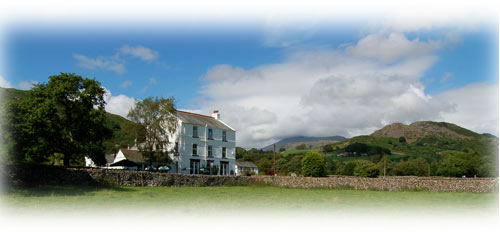 Brook House Inn, owned and run by the Thornley Family since the last century, offers you the opportunity to stay in hotel style bedrooms with ensuite baths in all rooms whilst having the convenience of a real Lake District pub with real ales and a fantastic malt whisky collection. Friendly staff with local knowledge help make your stay just right. Oh and did I mention the 180 whiskies to try? It will take a few visits to Eskdale to sample them all!
Our imaginative menu, including vegetarian options and scrumptious puddings, is complemented by blackboard specials and a varied wine list. Delicious home-made food is available all day. Dining in our restaurant, bar or snug is always a pleasure.
We serve real ales, treated on their journey from barrel to bar with tender loving care. These include Cumbria Legendary Ales Loweswater Gold, Ennerdale Blonde and a range of guest beers from Local Brewers such as Fell and Barngates We also have beers from many others brewers around the Country such as semi local Crossbay at Morecambe and Small World and Rudgates over in Yorkshire. We have a great choice of Lilleys Ciders and a shed load of gins to choose from.
Brook House Inn is one of the 3 hosts of the Boot Beer Festival, Boot Beer Festival is held in June every year and is one of the biggest beer festivals in the Lake District
Please see the picture gallery below for images in and around Brook House Inn
Our Favourite Breweries and Beers
Other beers may also be available!